THE AFEW-TAJIKISTAN INTRODUCES NEW APPROACHES AND ESTABLISHES COUNCILS OF KEY POPULATIONS REPRESENTATIVES

On May 3, 2018 in Khujand, a workshop was held with participation of 20 representatives of the Republican AIDS Center, the PWUDs community and HIV service organizations.
The meeting participants got acquainted with the AFEW-Tajikistan new approaches on increasing the access of key populations to on-line consultations with medical experts and lawyers through the portal www.afew.tj and express HIV testing and counseling service on the basis of public organizations.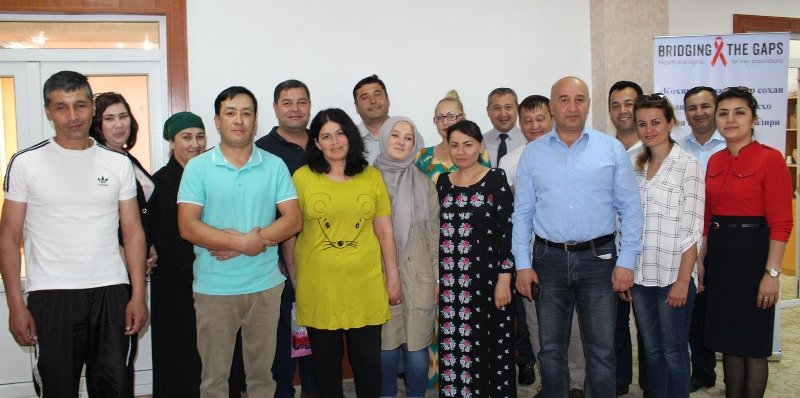 By inviting local partners to cooperate, the AFEW-Tajikistan presented an innovative model of PWUDs social reintegration aimed at supporting recovering drug users' self-motivation to a continuous lifelong adherence to ARV therapy and OST, vocational guidance courses, training on business planning and subsequent employment.
In 2018, the AFEW-Tajikistan continued to implement its long-term strategy to increase participation and practical involvement of key populations in planning, implementation and monitoring of HIV and AIDS projects. Thus, the AFEW-Tajikistan's work results on creation of Key Populations Advisory Councils and introduction of Clients complaints system based on public organizations in Dushanbe, Bokhtar, Kulob and Khudjand were announced at the meeting. Head of NGO "Tajikistan Network of Women Living with HIV" has presented the information on the Clients complaints system and working on establishment of Key Populations Advisory Councils.
The event was organized in cooperation with the Republican AIDS Center under the "Bridging the Gaps: Health and Rights for Key Populations -2.0" Program funded by the Netherlands' Ministry of Foreign Affairs.
---